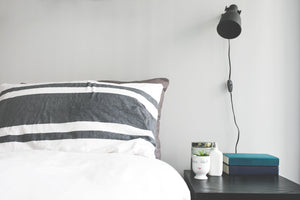 How to Light Your Home: Bedroom
Create the perfect oasis to
recharge
 your body & mind.
In this next instalment of our How to Light Your Home lighting tip series (you can view all pieces in the series here), we'll cover how you can best light your bedrooms.

The bedroom is likely one of your most private and personal spaces in your entire home, and for these reasons, it's important to ensure that it not only aids relaxation and rejuvenation but also reflects your personality and taste when thinking about how to light it.
Decide on your main light source.

 
When choosing solutions for the bedroom, remember that the goal is to create an environment that puts you at ease and makes you feel at home. Take a look at a range of table-top lamps, floor lamps, pendants, and lighting types (such as strip lighting) and decide which are your personal preference. Do you like industrial-style pendants? Or perhaps a large, arching floor lamp with a dramatic shade? Does subtle, ambient strip lighting create your preferred atmosphere? Whatever your personal preference, decide on what you would like your primary light source to be as this creates the basis for everything after it. 
Once you've chosen your main method of illumination, it's then time to accent. Wall lights and sconces are a stylish and minimal solution for use in the bedroom, perfect for adding ambience and doubling as task lighting for reading or writing. Table-top lamps make the perfect side table centrepiece and are often very visually pleasing, coming in many shapes and styles - a perfect choice for adding a touch of your personality to the space. 
Be practical, be prepared.

 
After the fun of decorating is done, it's time to ensure that there's light available for any practical purposes. Do you study or do work in your bedroom? It's not ideal for creating a relaxing space, but you're certainly not alone if you do. Making sure you have adequate lighting for performing work tasks can assist in reducing any strain working may cause. 
If you have a vanity setup for doing your hair and makeup, LED filament globes provide excellent light output for their size. Light strips are also a perfect solution for ensuring you always look your best. With variable brightness settings and colours/temperatures, you can better emulate the environment you're dressing for by lining the edge of your mirror with an LED strip and using such functions when getting ready. 
Now, the finishing touches:
Once you've considered the above, make sure these different layers of your lighting scheme blend together seamlessly.
A major part of this is making sure all your lights and bulbs are of a similar colour temperature. Not all lights are equal when it comes to this, as most globes are available in at least a warm white and a cool white (measured in 'Kelvin'). Check the packaging or ask a sales assistant when buying to make sure they're all of a similar Kelvin rating. For an ambient room such as the bedroom, try to stick to warmer lights for a more relaxing effect.
The final consideration is switches and dimmers – just how much control over your light scheme do you want to have? Dimmers enable you to increase brightness when working and bring the lights down when necessary – just make sure your bulbs are compatible. Once this is decided on, you're ready to start implementing each of the techniques we've covered and transform your room into the sanctuary it can be.

We have a range of solutions to match your bedroom lighting needs – take a look at our bedroom collection here.
---