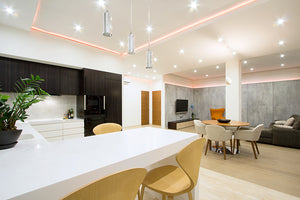 How to Light Your Home: Living Room
Make your living room comfortable, stylish & eco-friendly with LED lighting.
So, you want your living room to be comfortable, functional and stylish. Who doesn't? Lighting is one of the best ways to create atmosphere and ambiance within a space. Each different room has different requirements and characteristics, but here we'll discuss those of the hub of most homes: the living room. 
When choosing lighting for the lounge, it's important to keep in mind that it's often one of the first rooms people will walk into; this gives you the opportunity to set the overall tone of the home. Overhead lighting is important in any living space where daily activities that require good visibility are carried out. In a lounge space, this is an excellent opportunity to also set the style for the room and create a centerpiece around which to build the room on. Statement pieces such as a chandelier, pendant lights, and visually striking globes are the go here. These create a central point of visual interest for the rest of the room to reference. Because they're the main light source, they should have a warm, comforting effect. As the provider of general lighting for the whole room, this is the best place to use dimmers and the most energy-efficient solutions available. 
Another important technique when lighting a space such as a living room is depth. Combine different lighting strategies at varied brightness levels to create a layered, visually pleasing aesthetic. Accent lighting is an excellent way to add depth to your lighting scheme by illuminating interest points around the room. Coloured LED strip lighting is a very powerful, customisable form of accent lighting able to be mounted under cabinets or entertainment units, couches or other furniture for an attractive diffused effect. Remote-controlled strips that allow you to change colour, brightness, and effect are the ultimate option for being able to change atmosphere and mood at the click of a button. 
In using these techniques, remember that there should also be a focused light source or sources available for when tasks need to be done. Whether it be reading a report, helping the kids do their homework, or sifting through letters and bills, a brighter more direct light is needed here. These direct, task-oriented light sources are also capable of doubling as decorative elements if selected and positioned correctly. A stylish floor lamp with an overhanging arm can make for a dramatic but practical solution, but of course just a simple, trusty desk lamp on a side table can do the job. 
Eco Lighting Supplies offer everything you need to outfit your entire home with smart, energy-saving light solutions. Shop our indoor range here and find lighting solutions to match your lighting needs!
---