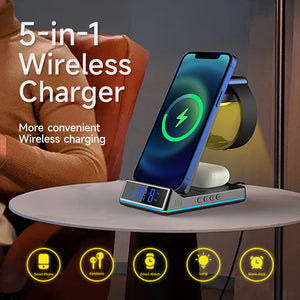 PHONE CHARGER Z6-5 IN 1 WIRELESS
SOTA LED International is very excited to announce we have obtained the licence to sell these awesome chargers into the Australian Market.
These are a brand new launch of the Phone Charging Technology.
CHARGE YOUR PHONE
CHARGE YOUR SMART WATCH
CHARGE YOUR EAR BUDS
ALL AT THE SAME TIME
The NEW Z6-5 IN 1 Charger has a Digital Clock with Alarm and a soft warm white light.
Please contact us for standard retail pricing and bulk pricing, email - sales@sotaledinternational.com.au or 1300 255 533.
---