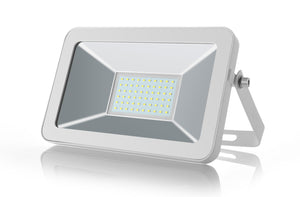 FLOOD LIGHTS- Apple-style flood lights
SOTA LED International is pleased to announce the launch of our new Apple-style flood lights! 

These highly slimline flood lights are guaranteed to meet your lighting requirements without being an eye-sore, like most traditional flood lights. These flood lights come in two colours (white or black) with a smooth matte finish, are lightweight and are highly portable.

The attached bracket can be used to mount the light on ceilings or walls and doubles as a prop-stand when being used unfixed.
Available in 10 watt, 20 watt, 50 watt, 100 watt, 150 watt.
Shop our slim flood light collection to see the full range and prices.
---